Chocolate Energy Pudding
 Chocolate Energy Pudding
1 large ripe avocado
2 very ripe bananas
2 tbsp dairy alternative milk of choice (I used almond)
2 scoops of Alms Bio Bio Complete Green Energy Powder in Chocolate Spice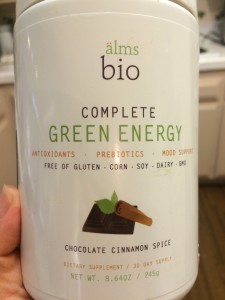 (This can be ordered through NeoGenesis Nutrition for $45.24 +shipping for a 30-serving supply)
Directions:
Mash the avocado until smooth and scoop in to food processor. ( I know it seems redundant, but this keeps from having avocado chunks in your pudding!)
Slice the two bananas and add to the food processor.
Add the 2 scoops of Bio Greens Powder
Add the 2 Tbsp of dairy alternative milk
Pulse the food processor so that the powder doesn't shoot everywhere and then turn the food processor on and blend until creamy. Do not over-process because it will turn the pudding too runny.
Enjoy!